I recently had the pleasure of speaking at the Retail Solution Provider Association annual thought leadership summit on the challenges faced by channel partners and vendors in the transition from purchased software and hardware to a recurring revenue service model. Not unexpectedly, one of the hottest topics on the agenda was SaaS channel compensation. In particular, how can SaaS vendors expect their more modest channel partners to absorb the up-front costs of customer acquisition and on-boarding when the SaaS vendors have trouble doing it themselves?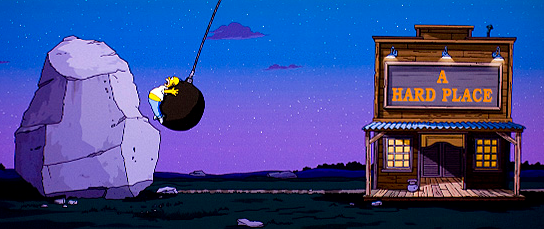 The SaaS subscription model shifts risk from the customer to the vendor.
Shifting too much risk back onto the SaaS channel
lands the SaaS channel partner between the proverbial rock and hard place.
A Game of Risk
The SaaS subscription model shifts risk from the customer to the vendor. SaaS vendors promote low-risk free trials, entry-level subscription plans, and bundled on-boarding, whereas enterprise software vendors expect big up-front license payments and professional services fees. In fact, it is common practice in enterprise software to promote and sell a product before it is completely built or even started. Not so in SaaS. The risks don't go away though, they just get shifted away from the customer back to the vendor. The SaaS vendor must make big up-front investments in R&D, customer acquisition and on-boarding just like the enterprise software vendor, but it often takes well over a year to recover these costs. If the product fails to live up to expectations; the SaaS vendor is left holding the bag, not the customer.
Between a Rock and a Hard Place
Enter the channel. Read more »