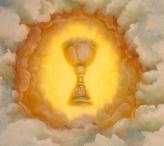 One hundred percent customer self-service is the holy grail of SaaS. Everyone looks for it, but it is never found. Even if your product is simple enough to provide complete self-service purchase, you are unlikely to get away with complete self-service support, because you can't hang unhappy customer's out to dry or you will ruin your reputation. Nonetheless, the divine power of the Internet to help customers help themselves combined with the promised land of lower customer acquisition cost and lower cost of service will always enrapture the true SaaS believers and hasten them on their quest.
SaaS Top Ten Do #3 : Accelerate Organic Growth depicts the SaaS self-service holy grail as revenue generation with zero marginal costs, because your customers can find, try, buy and use your product even if no one shows up for work. But just because your customers can, doesn't mean they will. It's very hard to build a product that enables one hundred percent customer self-service. In some cases it is impossible. Imagine your frustration when you finally achieve it and those pesky customers simply refuse to do it.
The Self-Service Maturity Model
The closing post of my recent New Breed of B2B Buyer series introduced the concept of the self-service limit in B2B sales. The self-service limit is that point where a customer's desire for instant gratification is thwarted by the complexity of purchasing and using your product. Purchase complexity comes in two flavors: informational and emotional. Informational complexity arises when the buyer requires education to consummate the purchase. Emotional complexity arises when the purchase entails a personal risk to the buyer. When either or both of these purchase barriers becomes high enough, the buyer simply will not make the purchase without the aid of a salesperson.
Complexity, however, is a subjective measure that is different for every single customer. In particular, and this is the point of this post, it is very different for the novice and the experienced buyer. An experienced buyer knows your company and trusts your brand. An experienced buyer knows your product and fully understands both its value and its use. As your customer base increases, so does the percentage of experienced buyers in your market, your knowledge share.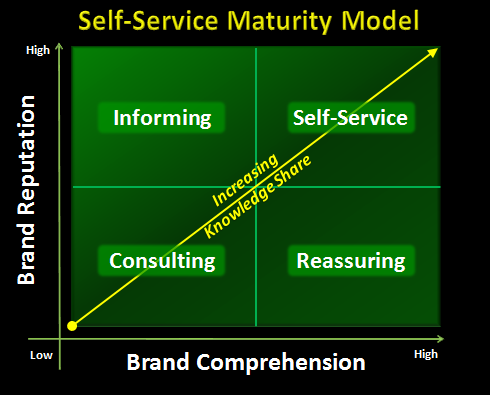 The percentage of experienced buyers in the market, knowledge share,
increases as a SaaS business matures.
Experienced buyers that trust and understand your brand,
are not only capable of one hundred percent self-service,
they usually prefer it, bringing you closer to this holy grail of SaaS.
Increasing knowledge share reduces both the emotional and the informational complexity of buying your product. A strong brand reputation reduces purchase risk and Read more »