SaaS branding has some unique challenges that aren't covered in the average MBA program. As a new communication channel, the Internet has altered the rules of branding for almost every category of product. However, cloud brands that owe their very existence to the Internet often find that the message, the medium and the merchandise are a confusing tangle of clicks, words, sounds, images and experiences that is difficult to describe.
I'm not going to re-hash branding 101, there are plenty of resources available for that. I'm also not going to provide a fool proof recipe for creating killer cloud brands. Anyone who says they have that is lying. What I will do is provide some SaaS branding food for thought by exploring 6 key questions you need to ask before committing to your SaaS branding strategy. Because once you commit, it's not easy to change. All brands, not just cloud brands, are ultimately owned by their buyers, not their sellers. Once you put yourself out there, the evolution and results of your SaaS branding strategy are no longer your own. Your first impression may also be your last, so you should strive to get it right.
Are You in a Category unto Yourself?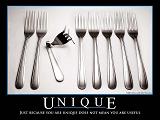 With respect to cloud brands, everyone wants to own the category. It's where the big, BIG money is. Moreover, the combination of network effects and switching costs common on the Internet often demand that you attempt to own the category, as everyone else is destined to be an "also ran." Consider the status of the direct competitors of Salesforce.com, Google, and Facebook.
I like Al and Laura Ries description of the relationship between categories and brands.
"The mind is like a sorting rack at the post office, which has a slot or 'pigeonhole' for every name on the letter carrier's route. Every piece of mail is put into the hole corresponding to the name on the mail. If there's no hole for a new piece of mail, it's set aside in a pile called 'undeliverables.' So too with brands. The mind has a slot or pigeon hole for every category. If the pigeonhole is named 'safe cars,' this is the hole for a brand called Volvo."
When you are creating a new brand, your challenge is to shove your way to the top of the slot by focusing on your unique and valued qualities over the competition. Building a new category is 3X more difficult, as you must first clarify and create a new pigeonhole where none currently exists, second promote the unique and valued qualities of the fuzzy new category relative to unclear alternatives, and third hold on to the top of the slot by outpacing the competition (which will come eventually if the category is real).
If you find yourself in the enviable position of being a BIG category unto yourself and the nature of that category demands that you own it, then your SaaS branding strategy should focus on crystallizing that confusing tangle into a simple, easily describable position that is unlike any other. No easy task as we all have very big, complex post office racks. Fail and your brand becomes "undeliverable." If you find yourself in a crowded category where you must fight your way to the top, then focus on your unique differentiation to pull away from the crowd. In either case, realize that positioning alone will not win the battle of the cloud brands; you must also deliver.
Are You Experienced?

Cloud brands are the most experiential of service brands. What you see and hear isn't always what you get. You can't taste them. You can't smell them. You can't touch them. You can only do them. Cloud brands must be experienced to be truly understood. In addition, most cloud brands follow a recurring revenue subscription model which precludes any ongoing discrepancy between your message and your service. Your SaaS branding strategy must be tempered by reality, such that your service absolutely delivers on the promises made in the name of your brand.
The experiential nature of cloud brands is one of the myriad reasons behind the free trial imperative of SaaS. If you are tired of explaining and explaining and explaining your cool new category or you can't quite come up with the perfect words to describe your difference, any car salesperson will tell you that there is no better way to seal the deal with an uncertain buyer than a test drive. With cloud brands, doing is believing.
The cloud brand experience does not begin or end with your product. Read more »