Most marketers are obsessed with metrics, and this is particularly the case for online marketers. Metrics not only demonstrate performance, they often form the basis for decision making, creating buy-in and defusing politics. But, for the life of me I can't recall ever seeing a decent presentation on metrics in any marketing book or course. In this post, I'm going to present a simple, process-centric approach to metrics that will help you develop the specific metrics that are right for your particular business and provide insight on where and when each metric makes a difference. This approach to metrics owes more to statistical process control (total quality) and activity-based costing than to marketing, but the the concepts are considerably (over)simplified. The goal is to achieve a comprehensive, integrated, insightful process view with as little math as possible.
Three simple concepts to master for developing great metrics
Process
A process is a stable, repeatable set of dependent activities
Process = Activity 1 > Activity 2 > Activity 3 > … > Activity N
Activities
Activities consistently turn inputs into outputs at a certain efficiency and speed
Output = Input > Activity
Efficiency = Output Volume / Input Volume
Speed = 1 / Cycle Time
Resources
Activities are produced by resources that have a certain cost and capacity.
The bottleneck resource constrains overall output, therefore maximizing output
and minimizing costs amounts to improving throughput at bottleneck resources.
Total Cost of Output N = Resource1 Cost +…+ ResourceX Cost + … + ResourceN Cost
Unit Cost = Total Cost / Output Volume
Max Output N == Max Activity X == Capacity of Bottleneck ResouceX
Kinda theoretical right? OK, so here is a concrete example that I think will be useful to many readers. Below is an inbound new purchase process model for a typical B2B SaaS company.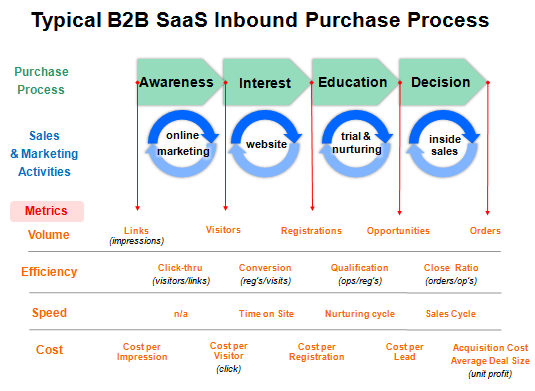 General process metric model applied to a top-level B2B purchase process.
For a lower level process example, click here to see the model applied to email marketing metrics.
Chances are you've heard or seen most of these metrics before, but they were probably jumbled around on a spreadsheet in random order with a few critical metrics missing and few irrelevant ones thrown in for…uh…good measure. However, when you see them laid out as they relate to the purchase process, their meaning and inter-relationships become much clearer.
Tips for Defining and Using Great Metrics
Keep it simple
So, the reality is that since we are talking about sales and marketing, and not manufacturing nuts and bolts, our processes are never as clean and predictable as this little model appears. It will at best be an approximation to reality. But, you have control over that approximation. Read more »