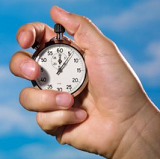 I routinely get asked questions like the following: What is a typical churn rate for SaaS? How much should I pay my SaaS sales reps? What is a good time frame to recover acquisition costs? A few years ago, the best answers I could give were simply based on my own experience and conversations with other SaaS colleagues. However, as SaaS has matured as a category, some high quality SaaS benchmark studies have appeared.
Recent conversations with Lauren Kelley over at OPEXEngine highlight for me how SaaS companies across the board struggle with customer acquisition costs (CAC) and churn. The 2010 OPEXEngine SaaS benchmark study shows a WIDE range of results across these critical performance metrics, indicating that there is no one right way to tackle these challenges that will work for SaaS companies across all sizes and sectors. But, there are plenty of wrong ways.
SaaS Benchmark Results – Customer Acquisition Cost
SaaS companies vary a lot in their willingness to invest in customer acquisition. For example, the OPEXEngine SaaS benchmark report gives an average payback period for CAC alone of about 18 months (CAC per new customer divided by average recurring revenue per customer). However, SasS companies with expected growth rates in the 20-50% range had a payback period of only 6.5 months, while those with expected growth rates over 50% had an average payback period of….drum roll….35 months! Ouch. While it makes sense to invest heavily in customer acquisition during high growth, SaaS Metrics Rule of Thumb #6 | Growth Creates Pressure to Reduce Total Cost of Service, highlights the importance of keeping average CAC per customer in check as you grow. Even if you're angling toward an IPO with a churn rate under 10%, I think it's near impossible to justify a 3 year payback period just to cover CAC. Talk about negative cash flow!!
SaaS Benchmark Results – Churn
The situation with churn is similar. While the average churn rate is about 13%, there is a wide range of performance across private SaaS companies. For example, the OPEXEngine SaaS benchmark study shows higher churn rates for SaaS companies targeting the SMB market and lower churn rates for those targeting large enterprise customers. Clearly the strong correlation between adoption costs and switching costs is playing out here, as enterprise customers are both harder to get and harder to lose. Moreover, SMBs are much more likely to go out of business altogether than large enterprises.
As you might expect, churn varies consistently with SaaS business scale and maturity. The OPEXEngine SaaS benchmark report gives a median churn rate of 8.5% for private SaaS companies with more than $10M in revenue, and a whopping 20% median churn rate for SaaS companies with less than $10M in revenue. A handful of startups have reported churn rates as high as 60%! This makes sense as you would expect churn to be high as a startup is figuring out its sales and marketing model, and then to settle down as improvements are made. Many of these smaller SaaS companies are also in the high growth category. So, if you happen to be the lucky SaaS startup with a 20%+ churn rate (meaning an average lifetime of < 5 years) AND a CAC payback period of 3+ years, you've got some serious business challenges on your hands.
The Value of SaaS Benchmarks for Growing Companies
Studies like the OPEXEngine SaaS benchmark report are great tools for SaaS executives at both large and small SaaS companies, and are especially useful for SaaS executives that are navigating the path from small to large. When both revenue and costs are in extreme and continuous flux, benchmarks help you focus on the problem areas and avoid wasting time reinventing the wheel. In addition to the CAC and churn metrics discussed here, this particular study includes a wide range of operational, financial and productivity metrics broken out by company size and growth rate, e.g., average deal size, hosting expenses, revenue per employee, and complete cost structure SaaS benchmarks covering expenses for sales, marketing, R&D, services, support, etc. For more information on how to participate in or purchase the OPEXEngine SaaS benchmark report, please see the highlight box below.
How to Get the OPEXEngine SaaS Benchmark Report
You can currently buy the 2010 Private Saas Benchmarking Report that I used for the analysis above at www.opexengine.com. In addition, the latest 2011 OPEXEngine benchmark survey of software and SaaS has just been launched with an expanding universe of participating companies and SaaS benchmarks. In particular, there are more pre-IPO SaaS companies participating as well as larger SaaS companies up to $350M in 2010 revenues.
To participate, go to www.opexengine.com and register for the 2011 benchmarking. Upon registration, you'll receive instructions about where to enter the survey on the OPEXEngine secure site. Participants receive a confidential Individual Company Report as well as the full, 70 page, 2011 Software Benchmarking Industry Report upon completion of the benchmarking.
Discounts for Participants, SIIA Members and Startups!
Pricing for these reports for participants is tiered by revenues and SIIA membership.
Companies with 2010 revenues under $10M: $999 or free for current SIIA members.
Companies with 2010 revenues over $10M: $1995 or $999 for current SIIA members.
Comment on Facebook!