There are a few good things in life that you can never have too much of, and at a startup business that good thing is growth. However, we all know there is always a price to pay for overindulgence. To my way of thinking, the key to being a glutton is to balance your consumption with an equal amount of discipline. If you eat a lot, you gotta exercise a lot. This is the first post in a series that will explore some of the more common startup business growing pains and present strategies and tactics to manage them for maximum success.
A startup business is all about capitalizing on opportunity. When you're growing, opportunities abound. The challenge is to focus on the right opportunities without getting distracted by all those other shiny objects. The challenge of focus pervades the entire startup business from the big strategic choices of product development and org design to everyday decision making and productivity. Moreover, focus must be balanced with flexibility, because startup businesses generally compete in rapidly evolving markets. Too narrow a focus for too long a time can be just as deadly as no focus at all.
Here are nine battle-tested tips for keeping your startup business focused and on the path to success.
Startup Business Focus Tip #1:
Choose to Do a Few Things Very Well
It is the very heart of focus that you should strive to be great at few things, not mediocre at many. This principle is universal, applying to your core competitive advantage, your high level strategic goals, your tactical plans, your everyday priorities and your enduring cultural values. Complexity is the enemy of startup business success. The ability to crystallize the chaos into clear, simple goals and action plans is the essence of focus.
Startup Business Focus Tip #2:
Align the Organization to Strategic Goals
There are many complex, competing concerns that go into designing an effective organization for a startup business: markets, products, processes, functions, geography, skill sets, and even personalities. But, the number one criteria is executive accountability for strategic goals.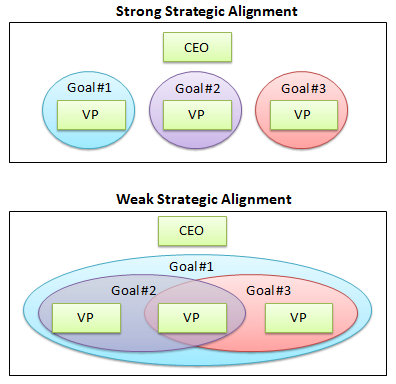 Startup organizations with strong strategic alignment ensure accountability and focus.
Organizations with poor strategic alignment require lots of coordination on the part of the CEO
and encourage bureaucracy, finger-pointing and politics.
Those few things you choose to do at the highest level must get done cleanly and quickly, without excuses. There is no forgiveness for bureaucracy or finger-pointing in a startup business; you simply fail. Look at your strategic goals and look at your key executives and ask yourself this simple question: is there a single executive accountable for each strategic goal AND is that executive responsible for the essential resources required to deliver it? Save the competing organizational concerns for the next level down.
Startup Business Focus Tip #3:
Over-communicate the Strategy
Startup business executives spend hours and hours talking strategy. They think about it on the way to work, in the shower, and when they should be listening to their spouses. Unfortunately, it is easy to forget that most of your team doesn't. Most of your team members don't even have the whole picture of what's going on, because their job's are only pieces of the larger puzzle. It's very difficult to over-communicate your strategy, goals and plans and very easy to under-communicate them. Whatever your method, whatever your culture, you should over-communicate the larger goals. Without the big picture, your team won't know a bad decision from a good one or a distraction from a real problem. A pervasive understanding of your strategy creates leverage, because the more your team understands the larger goals, the more independent and self-motivated they will be.
Startup Business Focus Tip #4:
Look for Everyday Reinforcements
Any good trainer will tell you that classroom learning doesn't stick without practice. If you want your team to stay focused on an everyday basis and recognize distractions that aren't worth their time, then look for opportunities to point out how everyday activities and progress relate to the larger strategy. When you congratulate your team for launching that new website, remind them how important it is for demand generation and making your revenue goals. When you fix a record number of bugs, remind your team how it contributes to reducing churn.
Startup Business Focus Tip #5:
Make Simple, Concrete Plans
Keep your plans simple. Plan only things you will do and avoid over-planning things you won't do. Wasting time planning things you simply don't have the bandwidth to get done is a waste of time, but more importantly it creates distractions. Keep your plans concrete. While your strategy may be lofty and difficult to tie to anything short of revenue or costs, your plans should be concrete with very specific deliverables that can be clearly marked done or not done to facilitate execution.
Startup Business Focus Tip #6:
Link Plans to Strategic Goals
It's common to create high level strategic goals at the top, then create plans and budgets from the bottom up, even if it is the CEO personally creating all three. Bottom up plans tend to be framed in terms of activities, e.g., upgrade product UI, create webinar, expand ppc campaign, etc. and budgets tend to be framed in terms of expense line items, e.g., web development, travel, advertising, etc., neither of which are clearly tied to your strategic goals. Make an effort to tie each concrete deliverable in your plan to at least one strategic goal. Separate out deliverables that do not produce immediate results, but are preparatory, infrastructure or long term in nature, and look for the right balance between immediate progress toward strategic goals and longer term investments.
Startup Business Focus Tip #7:
Concentrate on Bottlenecks
These tips are all great in theory, but achieving them in practice is incredibly difficult for every startup business given the natural imbalance between the huge number of opportunities and problems on the one hand and the excruciatingly limited number of resources on the other. You will not do them all well. So, how do you decide what to do? Concentrate on the bottlenecks.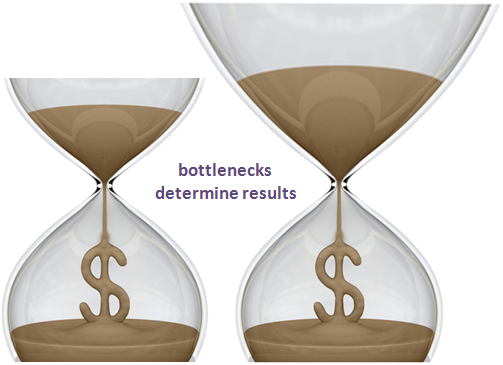 Improvements in areas that are not bottlenecks do not impact final results
anymore than enlarging the bulb of an hourglass or adding more sand increases the flow.
It's a waste of time to create requirements for a product enhancement that engineering has no time to build. It's a waste of time to reduce sales cycles when there aren't enough leads for reps to make quota. Look across your startup business and continually ask yourself this question: what are the primary constraints to achieving our strategic goals? Then, concentrate on removing those bottlenecks like a laser beam to the exclusion of all those other nagging opportunities and problems.
Startup Business Focus Tip #8:
Measure Progress against Strategic Goals
Startups are busy places. Good startups exhibit a constant sense of urgency to get things done: to get anything and everything done. Hence the focus growing pain. Aligning your organization and plans against goals is only half the battle, because you must test theory against reality. Are your plans actually achieving your strategic goals? Are your sales reps achieving their quotas? Are your marketing campaigns producing the expected number of leads? Are your new products generating the expected revenue? If you don't measure it, you won't know. If you don't know, you can't adapt your plan to address the problems. On the flip-side, if you don't plan to do anything about it, then it's a waste of time to measure it. Concentrate your measures on your strategic goals and the bottlenecks that are keeping you from achieving them.
Startup Business Focus Tip #9:
Filter Distractions, Don't Create Them
One of the biggest mistakes executives make is to communicate every request and great new idea they have to their subordinates without context or priority. Then of course, the politically savvy subordinate moves the boss's request straight to the top of the list, regardless of its relative impact on achieving strategic goals or removing bottlenecks. Never underestimate your own ability to create distractions by inserting non-critical projects, when you may be more effective encouraging your staff to focus more exclusively on the most critical ones. When you make a request or share an idea with your staff, be sure to consider the context. Is it more important than current projects? Is it urgent? Or is it just your latest good, but not critical idea?
Keeping a rapidly growing startup business on track in a changing market is hard work. What tips, tricks and words of wisdom have worked for you?
Cheers,
JY
Comment on Facebook!