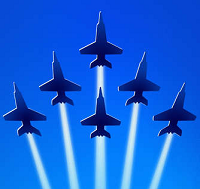 SaaS businesses can be overwhelmingly complex. If the multi-tenant, cloud-based technology isn't enough, there's the recurring revenue model which creates all kinds of challenges from accounting to sales compensation to funding. Then, there's the marketing. Getting noticed on the Internet gets harder every year and almost every SaaS product category has a crowded field of competitors. And of course there is mobile, which should come first right? In my own SaaS experience, be it scaling a sales and marketing team, consulting for SaaS startups or bootstrapping my agile marketing SaaS, Markodojo, I find myself returning to a common theme that always cuts through the complexity: SaaS customer alignment.
This is the second post in a series that explores the importance of aligning the goals and actions of the SaaS customer with the goals and actions of the SaaS business. The first post in a series introduced a simple framework for understanding SaaS customer alignment and its many benefits. This post digs deeper into the challenges of achieving SaaS customer alignment in the early stages of the purchase process. Along the way, we kick-off a list of tips to help SaaS businesses improve SaaS customer alignment at every stage of the SaaS customer lifecycle.
Not Everyone Needs Your Stuff
We love our SaaS companies and we love our SaaS products. They're our babies! But, your baby always looks cuter to you than it does to everyone else. Selling to everyone is one of the biggest causes of poor SaaS customer alignment. Some people just don't need your stuff, and they will never appreciate the unique qualities of your baby. Selling to everyone is an ill that inflicts many businesses, not just SaaS businesses, because it is baked into the economics. When growth is the primary determinant of SaaS company value, then there is always pressure to expand your available market. Unfortunately, your available market was probably determined a long time ago when your baby was conceived. Expanding your available market generally requires a new product module, a new SaaS product or even a new business unit.

SaaS customer acquisition should focus on maximizing available market penetration, not increasing available market size, and to do that you have to have a very clear picture of your target SaaS customers. Who truly needs your stuff? Why do they need it? What do they get out of it? How many are there? And, how can you reach them? This information goes by a lot of different names: market segments, qualification criteria, pain points, buyer personae, customer profiles, use cases, etc. The important realization is that they are all the same thing in the end: tools that reinforce SaaS customer alignment. The primary difference is in the depth of data; because you tend to have more of it the deeper the SaaS customer proceeds into the purchase process.
SaaS Customer Alignment Tip #1
Create a Common Customer Understanding
Chances are your SaaS Marketing VP has some version of market segments, buyer personae, and lead scores, while your SaaS Sales VP has some version of qualifying criteria and pain points, and your SaaS Product VP has some version of users and use cases. Do they match? Are they shared? Do they use the same language? Read more »